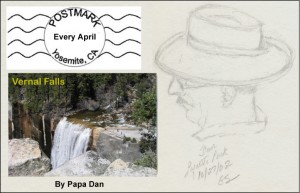 Yosemite Valley, California — Thanks to the foresight, eloquence, and hard work of people like The Ahwahneechee, Galen Clarke, and John Muir, the unmatched beauties of this valley can be easily accessible to most of us. But, there are some particularly intriguing views of it that require a bit of struggle. That is fair, of course, given the immense struggle — 20 million years of artful carving by a persistent glacier — that nature endured to form this valley.
On this particular day, Gretta and I are sitting next to a 100-foot tall pine tree in the middle of a meadow about 50 yards from the Ahwahnee Hotel and its five-star dining room. Directly in front of me, Yosemite Falls pours its heart out as it has done since long before human beings stared up in wonder and gave it a name. This magnificent view, one of Yosemite's most famous, is easy to enjoy — just a three-hour drive from the Bay Area and a five-minute walk from a parking lot to this meadow.
But on Tuesday of this week, we selected a more ambitious project. For decades, I have held a particular admiration for a pair of Yosemite's less accessible waterfalls — Vernal and Nevada Falls. A pleasant 45-minute walk from the "Happy Isles" bus stop to the wooden bridge across the Merced River allows a hiker to look up at the view of Vernal Falls that Ansel Adams captured in a well-known photograph. That is surely worth the easy hike. But ever since the first time I set foot on that bridge, something has called audibly to me, in a voice from the top of that waterfall. From that first time, it has been clear that the real thrill, and the real achievement, would be to seek out the top of the falls — and a spot from which both Vernal and Nevada Falls are both visible and both audible.
There are two ways to reach the top of the falls from the bridge. One is the direct approach: a sharp left turn after the bridge and a 30-minute climb up what is called the "Mist Trail." This trail is named for its stairway that climbs alongside the falls — close enough to feel the mist from the falls. This slippery path is most suitable for mountain goats and the most intrepid, sure-footed humans. I took this path years ago when youth and lack of fear gave me confidence that I could reach the top without slipping down the shear rock face to the boulders below. We did not take this path on Tuesday.
The other way is to turn right after the bridge and follow the John Muir Trail on a long winding path around behind the mist trail to the top. We took this path on Tuesday — it is known to be an easier, safer climb.
OK, so let's define "easier." For us, this walk entailed four hours of up-and-down switchbacks and narrow ice-filled ledges, some requiring crawling on our hands and knees in the snow.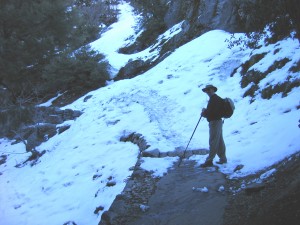 The hike up the mountain was not exhausting, but invigorating, as each turn brought into view a new and spectacular look at the mountain above us and, looking back, an ever-broadening look at the Yosemite Valley we were climbing out of. However, with each passing hour, we reminded ourselves that each step UP the mountain would have to be repeated later on the way down. Our judgment seemed reasonable each time we said, "Well, it would be a shame to come this far without getting to the top."
So, at long last, one of the turns in the trail rewarded us with the moment we were seeking. Stepping out on a large boulder we looked DOWN at the roaring top of Vernal Falls (as seen in the photo at the top of this essay) and looked UP at its source: gigantic Nevada Falls (below). What a sight! What a place to stand! What a moment to savor!
At moments like this, I realize that my most memorable travel experiences have consisted of savoring moments when I have reached a wonderful place to stand — memorable for a range of reasons, from historical significance, to man-made beauty, to sheer natural wonder, like this one. Click here to see and hear a few seconds at the top of Vernal Falls: Top_Vernal_Falls.AVI
The exhilaration of standing on this spot was slowly overcome by a new logic: since it took four hours to get here, it would surely take four more hours to get back. Fear of darkness and the hungry wildlife it would bring out cast a fairly formidable shadow in the bright sunlight of this moment. And, as we began our descent, the aches of already-sore muscles began to make the task ahead seem more and more intimidating with each new switchback and icy ledge. After four hours of uphill and three hours of downhill, the realization emerges that downhill can be much more difficult than uphill for sore muscles and tired feet.
Our twilight arrival at the valley floor was an overpowering mixture of relief and pain. Had this been a good idea? Had we gone too far? I can hear the answer in the voice of the rushing water that called us to that spot above Vernal Falls: "Come and join the beauty, it is worth the struggle."
It was.   

4 Responses "Yosemite — A Place to Stand, A Moment To Savor"