Archive for Winemaking
A Grand Harvest— Picking Grapes with Grandchildren

"Happiness is being one of three generations picking grapes together to make your own wine."
As a grandpa — they call me Papa Dan — I am privileged to have lots of three-generation experiences; but I have to say that tromping around a vineyard with grown children and wide-eyed grandchildren is among the most satisfying of them.
Last month at the first official harvest of our own ConVivio Winery, our grandson Hayden represented the third generation to participate in our family's amateur winemaking enterprise. All four of our sons and their ladies, and four other grandchildren have been involved in one part of the process or another, as represented by Gretta's painting "The Harvest" (below), which will be featured on the labels of our 2008 Festival Red and our 2009 Syrah and Cabernet Sauvignon, currently in barrels.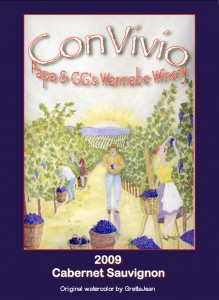 But, on this October 2009 harvest day, Hayden became the first of the grandchildren to actually pick grapes. He was quite a sight dumping his brightly colored toy sand buckets full of the grapes he had picked into his red toy wheelbarrow, wheeling up to the back of the truck where I was feeding grapes into the crusher. With the serious expression of a little boy who knows he is doing grown-up work, he looked up at me and said, "Here ya go, Papa Dan, I picked some more grapes for you."  I know that my father tromped around in his father's vineyard as a boy, but as far as I know, I am the first grandpa in the family to make wine from grapes picked by his grandchildren.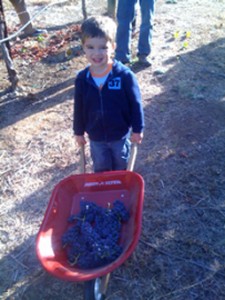 ∞ ∞ ∞ ∞ ∞ ∞ ∞ ∞ ∞
Grapes are amazing — a pure product of soil, air, water, and sunshine. The ancient Greeks spent a lot of time in vineyards and it is no wonder that they concluded that all of nature was made of four elements – earth, air, water, and fire – the four things necessary for producing grapes.  Humans didn't discover yeast until 1857 (Louis Pasteur) , but their observation that nature conspired to turn grapes into wine from these simple elements, led them, at least, to get the big picture right — evident in that wise men over many centuries (Benjamin Franklin among them) have stated the obvious truth: "Wine is evidence that God loves us and wants us to be happy."
The process of gathering generations together to pick grapes, make wine, and bottle it — and then pour it back out of the bottle when the time is right — has always been the background music of my family.
My father never made wine, but passed on to me his appreciation of it, which he learned at the knee of his winemaking father, who brought his winemaking experience, acquired as a youth in southern Italy, to California one hundred years ago and grew grapes and citrus and made wine in the Santa Clara Valley. According to the family story, all through prohibition, "people came from miles around to buy his expensive oranges; but he gave the wine away for free." So, we have a wine-making heritage.
∞ ∞ ∞ ∞ ∞ ∞ ∞ ∞ ∞
So, here we are, one foot in the 21st century, the other back in the 19th and beyond, still making wine, enjoying each other's company trudging through vineyards, crushing the grapes, tasting from the barrel, filling the bottles, and seated around dinner tables lifting glasses in celebration of the wonderful and ordinary days we spend together.
We have named our winery ConVivio. In Italian, it means "festival." In English, it derives from words like welcoming, friendly, lively, and hospitable — literally "with life." With this Blog, we intend to celebrate all things related to that theme. Our media will include fiction, non-fiction, art, travel, music, food, and wine — not necessarily in that order. My goal is to write two columns a week. You are welcome to participate by reading what you find here and, if you feel the urge, responding with your own comments and contributions. We hope you will join us here often.
Click on the word "comments" just below this post to leave a response.