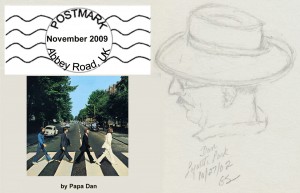 Abbey Road, London, UK — Many of us, young and old, associate pieces of music with the most important aspects of who we are. A few years ago, some of us tried an exercise that turned out to be very interesting.  It started when I was asked to list my choices for the Top Five GREATEST SONGS OF ALL TIME. As I made my list, I learned a few things right away:
I discovered that there were at least 15 songs that I couldn't drop from my TOP FIVE list
I learned that "All Time" is a very long time.
I decided that "songs" had to include a few longer pieces of music not normally called songs.
SO, today I am challenging you (yes, YOU) to create your own "All Time" list.  My challenge is to submit a response to this post that answers three questions:
What is your list of the twenty GREATEST SONGS OF ALL TIME?
What is wrong with your list?
What makes your list excellent?
If you will send your answers as a response (click on the link at the end of this post) I will publish them here (with first names or nicknames only). I hope you will accept the challenge. We'll see what conclusions we can draw from our lists.
I have started the ball rolling with my own.
My Twenty Greatest Songs of All Time
1.  Here Comes the Sun — Beatles
(This whole side of Abbey Road IS this song)
2.  The Perfect Time to Be In Love — T. Jones and H. Schmidt
(from The Fantasticks, 30th Anniversary Tour) *
3.  Me and Bobby McGee — Janis Joplin
4.  Sing! Sing! Sing! — Benny Goodman
5.  Watching the Wheels — John Lennon
6.  Things We Said Today — The Beatles
7.  Sleeps Judea Fair — Hugh McKinnon (as sung by Grace Cathedral's Men's/Boy's Chorus)
8.  (It's Not That Easy Being) Green — Kermit The Frog and Frank Sinatra
9.  One For My Baby, and One More for the Road — Frank Sinatra
10. Such A Night — Elvis Presley
11. Hope of Deliverance — Paul McCartney
12. Prelude and Fugue in A Minor — Johann Sebastian Bach (as performed by E. Power Biggs)
13. Cantata No. 140: Sleepers Awake (Wachet Auf, choral version) — Johann Sebastian Bach
14. Rhapsody in Blue — George Gershwin
15. Three's A Crowd — Dave Brubeck
16. Cakewalk Into Town — Taj Mahal
17. Chantily Lace — The Big Bopper
18. When You're The Best There Is — Chuck Mangione
19. American Pie — Don McLean
20. Maybe I'm Amazed — Paul McCartney
What's wrong with my list?
Only one from Elvis
Only two from Sinatra
Only one Broadway show tune
No Moody Blues (John, can you fix that?)
No Bob Dylan (but how many would it take?)
No John Mayor and no Pearl Jam (but it's early and "All Time" is a very long time)
No Peter, Paul, and Mary (inexcusable!)
Richie Havens is missing!
What makes my list excellent?
The Beatles are at the beginning, middle and end (although some claim that the first 126 songs should be Beatles — Jody?)
JS Bach is represented with both organ and choral pieces
Athletic achievement is well represented with the Mangione piece
The Fantasticks is second only to Abbey Road (representing dozens of Broadway tunes that should be listed)
American Pie serves as a summary and represents some missing artists (Dylan, Stones, Buddy Holley  . . . )
No disco.
What do you think? Please click on "Comments" below and paste in your answers.
I can hardly wait to see YOUR lists.    

*   You wonder how these things begin. Well, this begins with a glen. It begins with a season which, for want of a better word we may as well call- September. It begins in a forest where the woodchucks woo, and the leaves wax green, and vines intertwine like lovers; try to see it. not with your eyes, for they are wise, but see it with your ears: the cool green breathing of the leaves. And hear it with the inside of your hand: the soundless sound of shadows flicking light. Celebrate sensation. Recall that secret place. You've been there, you remember: That special place where once- Just once- in your crowded sunlit lifetime, you hid away in shadow from the tyranny of time. That spot beside the clover where someone's hand held your hand and love was sweeter than the berries, or the honey, or the stinging taste of mint. It is September- before a rainfall- a perfect time to be in love.
— El Gallo, The Fantasticks
19 Responses "Music: Greatest Songs of All Time — A Challenge"