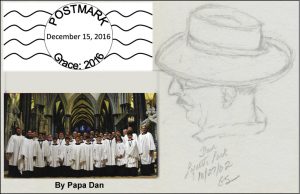 Carl Sandburg—
Orville Wright
Kitty Hawk, North Carolina

Fall, 1901

If we all worked on the assumption
that what is accepted as true,
is really true,
there would be little hope of advance.
Orville Wright
Carl Sandburg
---
This time of year, many of us take a moment and ask "What kind of year was this?"  Looking back at what I posted on ConVivio at this time last year, the year 2015 was looking pretty grim.  Many of us were looking for some encouragement, trying to find an excuse to feel more hopeful.  In that end-of-2015 ConVivio post ("Grace"), I described our annual attempt to find some seasonal, yuletide peace, hope, and, well, grace, with the help of Grace Cathedral's annual Christmas concert of the Men's and Boys Chorus, Orchestra, and Organ.  We followed that same recipe again this year, as we have for two decades.
More on that later.
When we try to look back and decide how we feel about a year, I suppose most of the time we decide that a year was either "terrific," or "OK" or "terrible" based mostly on how we feel at the moment we are asking the question — near the end of the year.  Michael Lewis' recent book "The Undoing Project" describes the trick that our minds play on us with what he calls the "recentness bias," in which we are predisposed to use the most recent evidence in drawing our conclusions.  We don't always take into account the entire year.  So, I thought — why not try to avoid that "trick" and take a broad look back at some of the things that happened across the entire year and see if we can come up with a reasonable answer.  Let's give it a try and see if it helps.  Then, I hope we'll get to see your answer.
First, the usual stuff that always happens in any year:
The Sundance Film Festival, Super Bowl #50 and Mardi Gras, the Daytona 500, NCAA Final Four, the National Cherry Blossom Festival, the Kentucky Derby, a bunch of Shakespeare festivals, the NBA Finals, the Summer Olympics, the World Series, Albuquerque's Balloon Festival, and the annual crop of new words entering the our vocabulary— notably: Brexit, Calexit, virtual reality, self-driving cars, fake news  …  etc.  All of that happened as expected.
Second, the "special" stuff that happened in 2016:
In January, an armed militia took over a Wildlife Reserve in Oregon (and dominated the news) for six weeks; we learned that drinking water in Flint Michigan had been poisoning its residents for years; and as the primary elections heated up in March, Hillary Clinton emerged as the Democratic frontrunner causing polls and pundits to agree that her election was all but assured.  Two days later, Trump's campaign was pronounced "doomed" when Mitt Romney called him a "fraud" and a "phony," saying, "He has neither the temperament nor the judgment to be president." Well, I don't have to tell you that … later on … in November … well, you know …
With the coming of a hopeful Spring, marriage equality became a reality in California but also in surprising places like Georgia; the ban on gays in the US military was lifted; and the supposedly paralyzed US Supreme Court struck down a Texas law restricting abortion 5-3.  A few large states raised their minimum wage and progress was reported in preserving some endangered wildlife around the world.  About that time, Britain did two seemingly contradictory things, perhaps inspired by the 90th birthday of their Queen:  they elected the first Muslim mayor of a western city (London) and voted to withdraw from the European Union, reversing a 60-year trend toward European unification.
In June, the Broadway production of Hamilton received 16 Tony nominations, won the Grammy for Best Musical Theater Album, and captured the Pulitzer Prize for Drama
— not bad for a guy of questionable parentage who was killed in a duel 212 years ago.
In two technological triumphs, NASA's Juno spacecraft entered Jupiter's orbit after a 1.7-billion-mile, five-year journey to study the planet and a solar-powered plane flew around  the world without using a drop of fuel (it took 16 months).  Encouraged by the Paris Climate agreement, India reported that 800,000 volunteers worked 24 hours to plant almost 50 million trees on July 11th, beating the Pakistani's previous one-day record of 1 million set in 2013 — reminding the world that, a month earlier, Donald Trump declared his intention to withdraw the US from the Paris Climate Agreement. ("It's a hoax. Nobody believes it.")
Third, some stuff happened that was NOT supposed to happen:
The Cleveland Cavaliers came back from a 3-1 deficit (a historic first), winning their first NBA title by defeating the Golden State Warriors.  The National League playoffs between the Giants and the Cubs happened and I don't want to talk about it.  Immediately after that, the Chicago Cubs won the World Series, after waiting 108 years, by beating the Cleveland Indians, who are still waiting after 68 years.  (The San Francisco Giants, were supposed to win the World Series this year and I don't want to talk about THAT either.)  Then, Americans elected a president who promised to Make American Great Again by employing a unique strategy …  (and we've already talked about that too much, haven't we?)  Two weeks later, the Dow Jones responded to doomsday predictions after the Brexit and Trump wins and topped 19,000 for the first time (begging the question "What does it mean?").  Finally, in this "not supposed to happen" category, Gwen Ifill, a longtime PBS News anchor, died at the age of 61.  Those who admire real news and respectful discourse mourned.
Finally, two more things happened that mattered to me:
1. I retired from a long career and was given a wonderful party (thank you Jessica & Brytni);
2. The 2016 Grace Cathedral Christmas Concert restored the uplifting and grace-filled themes that have inspired audiences (including Gretta and me) throughout its long and generous history (see https://convivio-online.net/grace/). Grace Cathedral's musical signature, "Sleeps Judea Fair," was again reassuring, peaceful, and hopeful — filling that magnificent cathedral with its transformational sound and powerful spirit. The blending of the mature and youthful voices and faces of the men and boys in that chorus, transported us all to a place we came there hoping to experience.  The dissonance we heard and felt last December was gone — for now.  I must admit that we needed that encouragement to look forward with hope to the year ahead.  They came through for us and, for that, I am thankful.
OK, So How Do We Feel About 2016, Really?
Well, now that you're really annoyed that I left out your favorite "most important" event from 2016 (and I know you were looking for it), it's time to commit: how do we really feel about the year that's ending and prospects for the year ahead?  Again, I'm trying to avoid that "recentness bias" — you know, trying to ignore the feeling that the events of the past six weeks must completely overshadow our judgement about the whole year and color our anticipation of 2017.  The year we're just now completing suggests the likelihood that 2017 will bring some surprises.  So, I offer two things:
One — A Request for 30 words from you:  I am asking you (yes, you) to put your thinking hat on (no, not THAT hat) and try to sum up your feelings about 2016 and your outlook for 2017 in 30 words or less and send them to me.  It's a writing challenge — you can do it.  Many of you have demonstrated that you are very clever with words. If you take a few minutes and send me your words, I will publish them here on ConVivio (with your name if you give me permission).  Thirty words.  Can you do it?  (Repeat after me: "Yes, We Can.")
Two — I offer my own 30 words anticipating how 2016 will lead to 2017:
Looking ahead, we always think we are smart enough to predict the surprises.
My hope is that we are wrong; and the surprises will not be the ones we expect.
I wish you all Happy and Hopeful Holidays!
PapaDan                      Download a pdf of this post:  Grace_2016_ConVivio_Final

8 Responses "What Kind of Year Was 2016?"