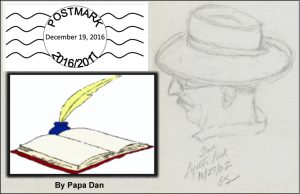 "How wonderful it is
that nobody need wait a single moment
before starting to improve the world."
— Anne Frank

"The nation which can prefer disgrace
to danger is prepared for a master
and deserves one."
— Alexander Hamilton
"Yes, we can.
— Barack Obama
2016/2017
Carl Sandburg
---
What Are Your Feelings About 2016 and Your Outlook for 2017?
(Your responses to the writing challenge: 30 words or less)

Of the fifty-some people who read ConVivio's "2016" post, ten of you responded to its
30-word writing challenge.  I admire the variety of approaches you took: some with a broad national perspective; others with observations focused on their own lives; some optimistic, others not so much; some were quite poetic.
Thanks to everyone who sent a response.  Here they are:
==========================================
Overcome the recentness bias this year?  I think not.
The election's outcome could affect us for decades.
Color me cynical and sad for this fine country.
— Katie Walter, Stockton, CA
2016: The rotting corpse of the Democratic Party hopefully saw the error
of moving to the right.
2017: As Daniel said on the series finale of Rectify, "I'm cautiously optimistic."
— Steve Rubio, Berkeley, CA (typepad.com)
I'm ready to fight against climate change and Trump's agenda.
— Sonia Faletti, Washington D.C.
Working on myself as an active participant —  How can I be more present?
How can I be more aware?  How can I be a consistent critical thinker engaging with others?
— Matthew D. Sapone, Aptos CA
Incredible year, many "ups," one YUGE "down."
Ups: Changed from large stable company to a startup.  Excellent decision!
Loving husband, strong family life, great friendships.
Downer: Won't say his name.
— Nouanepheng Sapone, Aptos, CA
If you want someone to understand (and adopt) your viewpoint,
you must first listen to and understand theirs.
No more preaching to the choir.
— Lauren de Vore, Livermore, CA
The elections were like a pollution cloud, darkening everything.
Now, every day brings new confirmations of how bad 2017 can be,
for our country and the world. We're worried.
— Megan Taylor, Bellingham, WA
Unexpected atheism explodes into confidence as the rush of information
restores limbic, and age of majority is reached. Zen heart at 80 beats per
minute while ruffian's words exile paralysis.
— Jody Tims, Morgan Hill, CA
Daughter Srijana: Nepal, 1998, Scott College August;
her new boyfriend Haaroon: wants medical school;
Me: working CDC with fabulous Director Dr. Frieden;
2 dogs, 2 cats;
Me: nervous re. prez.
— Jean Smith, Atlanta, GA
After the events of the last year, I don't know how anyone can mount a compelling defense for the theory of evolution. Are we really getting smarter and better? Show me.
— Jeannette Gosnell, Livermore, CA
Men often oppose a thing merely because they have had no agency in planning it,
or because it may have been planned by those whom they dislike.
— Alexander Hamilton, New York, NY
Looking ahead, we always think we are smart enough to predict the surprises.
My hope is that we are wrong; and the surprises will not be the ones we expect.
— PapaDan Sapone, Pleasanton, CA
A PDF of these responses can be downloaded here:        Thirty_words_Grace

One Response "Looking Back at 2016 — Ahead to 2017"