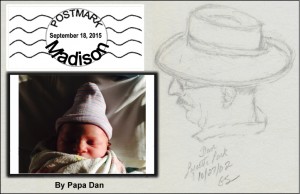 New photos (after seven weeks) have been added below.

September 18, 2015 — Today we say hello to the newest member of the family.  Her name is Madison and she is our seventh grandchild!!!
By the way, she is stunningly beautiful, but you knew that, eh?
She is already writing her own story, with the loving and wise guidance from her proud parents, William and Maria.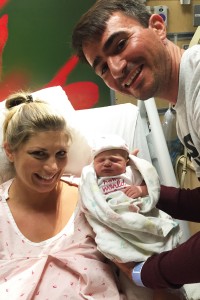 My first observation, right after noticing the she is beautiful (did I mentioned that?), was that she seems remarkably calm and composed. She opens her eyes from time to time ("Who are these intersting people?" she wonders), fiddles with her fingers ("Wonder what these are for?"), and says a few brief epithets of commenatary — until her attention is diverted by her PapaDan's melodious humming of his favorite baby pacifier "Let Me Call You Sweetheart."  She quickly closed her eyes and returned to her "calm and composed" posture. I figured she was soothed by the sheer musicality of my rendering of the tune, (others in the room suggest that I may have bored her back to sleep, a credible suggestion that I quickly rejected).
ANYWAY, needless to say, we are all thrilled. Gretta and I had the privilege of sharing this first afternoon of Madison's life with another pair of her grandparents (Momma Maria's parents), Manny and Diane, and course Madison's spectacular parents Maria (who had just completed 36 hours of labor) and my son William (who was proudly wearing his new "Best Daddy. Ever." T-shirt).
Below are a handful of pictures from Madison's first few hours in her well-appointed suite in the sparkling, new Kaiser hospital in Redwood City. More will be added, as they arrive.
Welcome to our family, Madison!
◊◊◊◊◊◊◊◊◊◊◊◊◊◊◊◊◊◊◊◊◊◊◊◊◊◊◊◊◊◊◊◊◊◊◊◊◊◊◊
.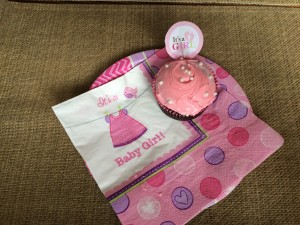 And — last but not least:
Manny's cigars and Diane's Cupcakes!
◊◊◊◊◊◊◊◊◊◊◊◊◊◊◊◊◊◊◊◊◊◊◊◊◊◊◊◊◊◊◊◊◊◊◊◊◊◊◊
Below: Will sent some new photos from Madison's first day.
Does the little sleeping face in the picture on the right look familiar?


A wonderful day to be born!
◊◊◊◊◊◊◊◊◊◊◊◊◊◊◊◊◊◊◊◊◊◊◊◊◊◊◊◊◊◊◊◊◊◊◊◊◊◊◊◊
A  fond send-off from the hospital staff  AND Madison's first car ride!
Two Weeks Old!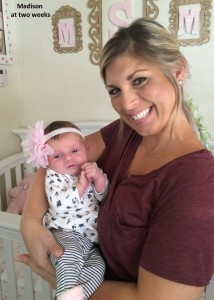 Mommy Maria and Madison after two weeks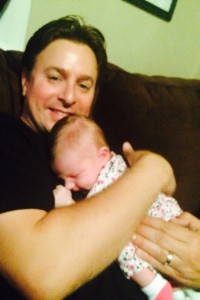 Uncle Ben and Madison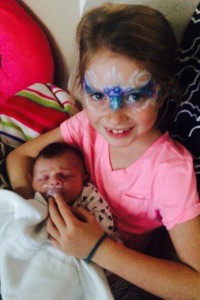 Face-painted Quinn holds Madison and Binky
Big eyes and a smile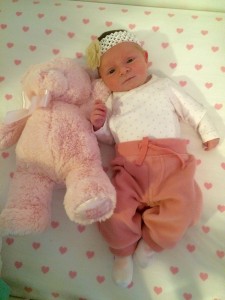 Seven Weeks Old!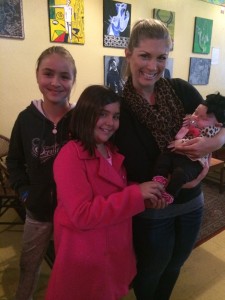 Madison's first visit to The Flying Pig
(with Mamma, Ruby, and Lily)
Other Madisonia on November 12: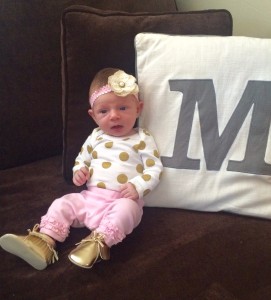 Talking with Daddy: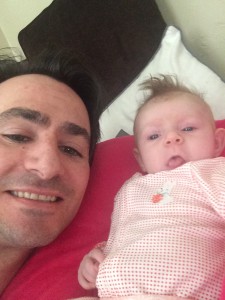 And, of course, sleeping!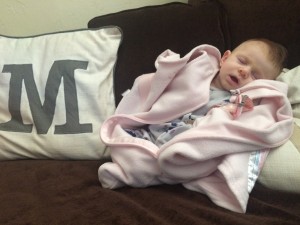 Download a PDF of this celebration!:    Celebrating_Madison_Sep19_2015
2 Responses "ConVivio Celebrates — Welcome to the World, Madison"