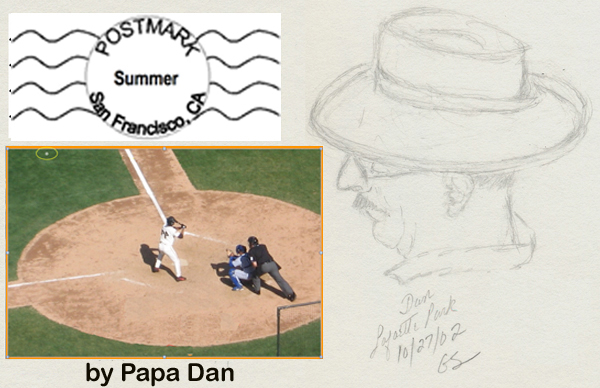 Just to hit the ball and touch 'em all
A moment in the sun;
. . . it's gone and you can tell that one goodbye.
— John Fogerty, Centerfield, 1985
* * * * * * * * *

I grew up as one of those elementary-school kids who were labeled 'uncoordinated.'  Since baseball was the most important measure of a boy's worth in the fifth grade, boys were assigned a place in one of two important classes of people.  Either we were:
1) 'cool' — that is, among those who could successfully play baseball
or we were
2) 'uncoordinated' (aka 'not cool') — couldn't catch, couldn't throw, couldn't hit a baseball.
By the Spring of 1962 at the end of the 6th grade, I was well established as a member of that second class.
For me, that membership was manifest in a well-defined ritual that took place on the infield of an all-dirt baseball field with a grove of almond trees behind left field and the back fences of the houses on 13th Street behind right. When it was time to pick teams, two kids who were identified by acclamation to be the best players were the captains.  Nobody had to say so, there was no need for an election, it was known intuitively by everyone in the 6th grade who were the best two. The most important reason to make them the captains, by the way, was to ensure that they didn't end up on the same team — which would have rendered that team unbeatable. The two captains would take turns naming the players who would be on their team. The best hitters went first, a pitcher who could get the ball over the plate had to be selected early, and a shortstop and first baseman were essential. I knew when I would be picked and the only suspense was to wait to find out which captain would be stuck with me.
At that stage of my life it wasn't a terrible thing to be a lower-class kid on the ball field. After school, while the 'first group' of regular kids went off to little-league practice, I carried home the leather briefcase my Dad had given me containing a book of stories by Mark Twain and other books my Dad bought me about other times and other places. I was intimidated by the prospect of playing sports and didn't see why I would want all of that pressure and embarrassment.  Reading was safer.  But I wasn't a total loss, I was content, even thrilled to enjoy baseball as a spectator. Early in the 6th grade my brother-in-law, Joe, took me and my nephews to our first Giants game at Candlestick Park and I was immediately smitten. From that time on, I became a regular listener to Russ Hodges and Lon Simmons as they brought the Giants to life on my transistor radio.  I was a first-class baseball fan, even though I was definitely not a player.
Everything Changes
During the summer and fall of 1962, two very big things happened in my life:
1) The Giants won the National League Pennant
and
2) I grew six inches.
My heroes, Willie Mays, Willie McCovey, Orlando Cepeda, Juan Marichal, Jim Davenport, and the rest of the Giants were everybody's heroes and I was content to be part of that. It was fun and there were no expectations to being a baseball fan. It was easy. As long as I had my books and my transistor radio, life was good. But then, something happened that changed everything and — like most big changes — at the moment it was happening, it was scary!
One afternoon during the first week of basketball season — you may ask, what does basketball have to do with baseball?  and I'll get to that — I walked out of my school building happily carrying my leather briefcase with my books when Gene Banti, who unbeknownst to me was the 7th and 8th grade basketball coach, passed me on his way into the building. Without any introductions, he stopped dead in his tracks said, "What grade are YOU in?"  I didn't like his tone of voice.
"I'm in the 7th grade."
"You're tall!"  I felt like he had accused me of something. "You need to be on the basketball team. Practice is Wednesday after school and I want you out there."  This was turning out to be a very uncomfortable moment in the bright afternoon sun. I didn't like where this conversation was going.
"No . . .  I can't." I made up some excuse about Wednesday, which apparently was unsatisfactory.
"Oh, no.  I'll speak to Sister Bernadette about it.  You'll be out there on Wednesday."  That's how Junior High basketball coaches talked in the early sixties.
Sure enough, through the awesome power and influence of Sister Bernadette (she called my mother), I found myself on the basketball court on Wednesday afternoon. I didn't like it at all and the other players — those whose membership in the aforementioned 'first group' had been earned by their baseball abilities — seemed to find it amusing. The coach was designing a new offense around this new tall player and teaching me how to play zone defense. "All you have to do is stand up straight, put your hands up, and stay in this part of the court. When the other team shoots, all you have to do is jump, grab the ball, and throw it to Gary.  He'll take it from there."
To my surprise, I found that I could do those things fairly well.  Dribbling and shooting were a bit of a mystery at first, but I found that I could at least carry out my limited assignment without embarrassing myself too much. A kid, I'll call him Eddie Summers, who had lost his place on the starting five when I showed up, didn't like me at all and did his best to ridicule everything I did; but after the first couple of times I blocked his shot, he seemed to quiet down.
So, one thing led to another and I finished the basketball season on the starting five, got a bunch of rebounds, and helped Gary score a lot of points because of all the defensive rebounds I hurled down the court to him.  One day, the school principal, Sister Bernadette. came up to me at recess and handed me a basketball.  She said, "the coach tells me you can shoot and get rebounds, but he says that when you try to dribble, you embarrass both of us.  So, your assignment is to take this basketball every day at the morning recess and dribble up and down the convent driveway until the coach tells me you can dribble."  One thing led to another and all of that practice made a difference.  More than the dribbling, Sister Bernadette taught me two things: that basketball mattered and so did I.  Her influence caused me to embark on a long career as a basketball player and a coach.  Heck, my sons turned out to be better basketball players than I ever was.  Sister Bernadette started all of that.  But, I digress.  Back to another important day, back to the playground …
Most of all, I began to feel like I might have become a regular person. I wasn't sure, but I figured it was possible; so I looked for an opportunity to find out.  Unfortunately, basketball season came to an end and I found myself standing on the baseball diamond in front of the two captains, waiting to be picked.  I felt I had distinguished myself as a passable basketball player (if only because I was now a tall person); and I wondered if my status as a 'potential regular kid' would transfer from the basketball court to the baseball field, where it mattered. I figured the ritual of 'the picking of teams' might provide the evidence of that transformation — one way or the other.
The Test
Sure enough, it didn't take long. Michael Savage, one of the acclaimed captains, picked me NOT LAST — not early, mind you, that would have been too much of a fantasy, but getting picked NOT LAST made me feel like  . . .  a regular kid. So, with a grin on my face that I couldn't hide, I came up to bat with lots of confidence. The bad news was that I looked at the pitcher and found that it was Eddie, the kid who got pushed off the starting five and onto the bench when I arrived on the basketball team. Eddie immediately dashed my optimism when he said, loud enough for everyone to hear: "Look, this isn't basketball.  Being tall isn't gonna get you anything on this field. You still can't hit."
Well, maybe I expected too much to think I would be accepted as a regular kid just because I was tall and could play a little basketball. With those few words, Eddie had pulled a plug and drained the confidence right out of me. But this time I felt something new — I WANTED to be accepted; I thought I deserved it, so I was mad. Really mad. I hadn't fully realized until just that moment, but basketball taught me that there was more to life than books and that it was possible to be treated like a regular kid, with all of the rights and privileges that went with that status. As I stood in the batter's box, that kid on the pitcher's mound stood between me and the respect that a regular kid deserved, respect that I had tasted and I suddenly wanted more. I knew that he was right about one thing: baseball was the real test of a boy's status and I had to prove myself all over again or all of that 'regular kid" stuff would be washed away with a few futile swings of a bat — right here and now in front of all these people.  As his first pitch came across the plate about shoulder high, that baseball BECAME the smirk on Eddie's face and I hated it.  I transferred all of those new feelings into the bat, and swung as hard as I could.
I hit the damn thing into the trees.  It was an accident, honest. It just happened. But it was supposed to happen.  I rounded the bases and never looked back. From that day forward, nothing would ever be the same.

5 Responses "A Moment in the Sun"