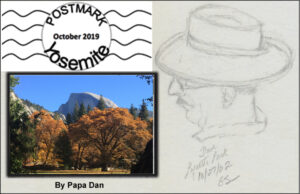 "The dry waterfalls and sparse rivers of Autumn simply provide a promise
for the coming of Spring.
The bright Fall colors are a reminder
of that promise."
— PapaDan

= = = = = = = = = = = = = = = = = = = = = = = = = = = = = = = = = = = = = = = = = =
As I've written during previous Autumns in Yosemite, this wonderful valley is always changing.  The two most prominent features of Yosemite are "Permanence" and "Change."  (See an old ConVivio piece on that subject.)  What's the Peter Allen song — "Everything old is new again."  Yosemite Valley certainly qualifies as OLD — having been carved by a slow-moving glacier beginning about two million years ago, with its sturdiest rocks (e.g., Half Dome) weighing in geologically at about 87 million years.  AND as always, it is NEW again à This year, this month, we observed that the Fall Colors are more dramatic than ever (more on that later).
Another piece of Yosemite news in the "Old-and-New" category is that Yosemite National Park has re-acquired its old revered names — the Hotel is now again named The Ahwahnee and Curry Village and Wawona have their names back, as does Yosemite Lodge, and others.  I have known these names for fifty years, and they mean something to me.  The lawsuit was settled in July after a three-year fight over ownership of the names.
(Talking with a waiter in the Ahwahnee dining room, I observed that the fight was over money.  He corrected me and explained, linguistically, that the problem was caused by 'politics.'  He said, " 'politics' is a word with two parts: 'poli,' meaning many, and "tics,' meaning small blood-sucking creatures."  I expect to use that line again.)
The Ahwahnee Hotel is certainly old by our own standards, having been built in 1927.  BUT, what's interesting to me is this: the name Ahwahnee was given to this part of the valley by the native Ahwahnichi Tribe about 600 years ago — long before the National Park Service or even the United States of America existed.  So, the idea that a 21st-century hospitality management company can claim to "own" that name is ridiculous.  But now, sanity has been (temporarily) restored (repurchased) and some good old things are new again.

The National Park Service quickly, proudly, replaced the signs.
Yosemite's Dramatic Fall Colors — October, 2019
We tend to think of the Stanislaus National Forest, where Yosemite is located, as being dominated by evergreen trees like the Giant Sequoia Redwoods, Ponderosa pines, incense-cedar, Sierra Juniper, white fir, and the like.  With that in mind, most of us don't expect there to be much in the way of dramatic Fall colors.  BUT, Yosemite Valley is also populated by California Red Fir, various varieties of Hemlock, California Nutmeg, Black Oak, Alder, Birch, Dogwood, Laurel, Big Leaf Maple, Quaking Aspen, Cottonwood, and Willow.  All of these punctuate the broad green background with prominent splashes of reds, yellows, golds, blues, ambers, and combinations of those.  Here are just a few examples of photos I took just last week in Yosemite: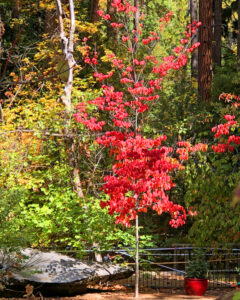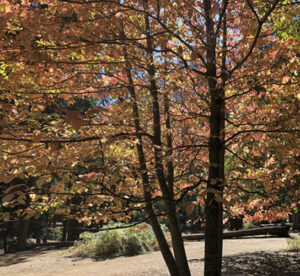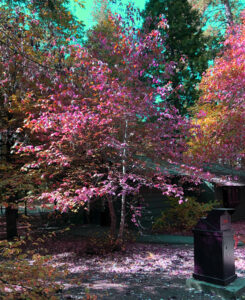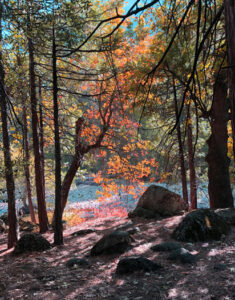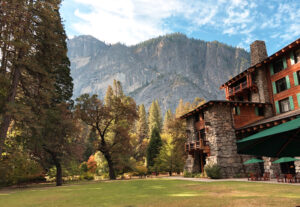 And The Water — October, 2019
As in Autumns past, one of the most striking features of Yosemite in October is:
The silence.
Unless you visit Yosemite in the Fall, when the waterfalls in the valley are dry, you might not realize how much the roar of Yosemite Falls dominates the sound of the valley in the Spring.  When the waterfalls are not running, there is a remarkable silence.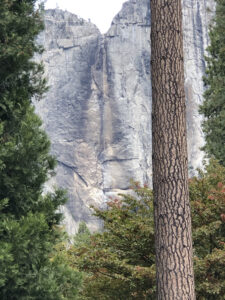 On the left, you can see the place where Yosemite Falls is normally pouring its heart out in the Spring.  Here in October — not a drop.  The water-scarred granite face of the mountain is bone dry.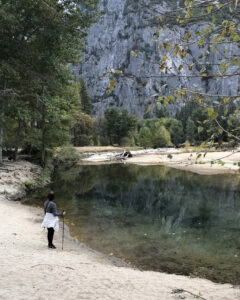 Here, you can see the Merced River where it meanders through the valley.  Now, in October, it is lower than I have ever seen it and it's not moving.  In the Spring, on the spot Gretta is standing in this photo, she would be standing waste deep in water.  Where I am standing to take this photo, I would be ankle deep.  We were told that, even though there was a significantly wet winter this year, more of the precipitation came down in rain and fell later than usual.  In fact, you can see the hundreds of fallen trees that were brought down this past winter by the flooding. And, a lot of the snow that had fallen melted quicker than usual between Spring and Fall, causing the waterfalls to dry up sooner and the river to recede more than usual.
Looking Ahead to Spring, 2020
Gretta and I also come to Yosemite every April, for our anniversary, and one thing is a constant in April — Yosemite Falls is always flowing with its usual vigor.  The sound is not merely of running water, but of chunks of ice and fragments of logs from the high country crashing down on the rock formations between the peak of the falls and the valley floor.  All of that — plus the constant rushing of the water — creates a polyphonic orchestration complete with percussion, and you can hear it everywhere in Yosemite Valley from Half Dome to El Capitan to Glacier Point.  We'll be back in six months to see, and hear, the results that we have come to expect.
The climate is changing.  We'll just have to keep monitoring our best gauge of the changing colors and the water — here in Yosemite Valley.  It speaks to us.  Our task is to watch and listen.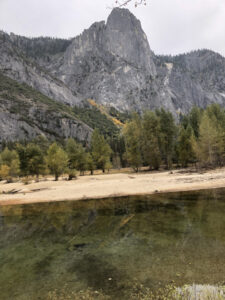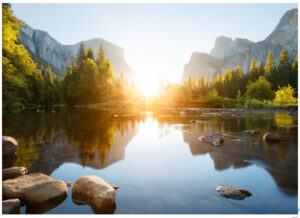 2 Responses "Yosemite — October, 2019"