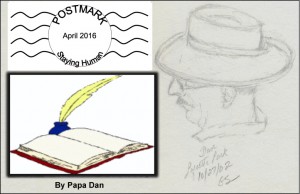 "Unless someone like you
cares a whole awful lot
Nothing is going to get better.
It's not."
— Dr. Seus
---
A month or so ago, with the presidential primary season just heating up, I couldn't resist the need to step in it; so wrote a column about the future of the Democratic Party.  In that piece, I cited David Brooks' column about the future of the Republican Party, and followed it with another piece on the same topic: It Can't Happen Here.  In response, Gretta asked a thoughtful question: "Aren't we tired of all that yet?"
OK. I agree. I am tired of all the negativity (for now). So, instead, I'd like to take a breather from all of that and contribute a little something positive to the mix. Let's take a look at some evidence that the future, maybe even the present, is brighter than all of that political bloviation suggests.  Let's start with some people on the public stage who work hard to make us smile.  Here is my candidate for "people who make us smile."  If you have another candidate, send me some details and we can all smile a bit.
Who is Jon Batiste?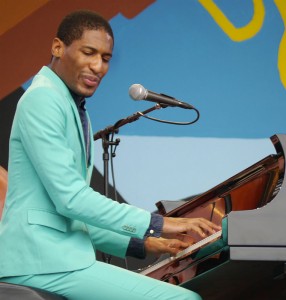 Jonathon "Jon" Batiste is a singer, multi-instrumentalist, educator, and bandleader from Kenner, Louisiana. He has worked with acclaimed musicians in various genres, released his own recordings, performed in 40+ countries, acted in film and TV, and was appointed Associate Artistic Director of the National Jazz Museum in Harlem.  Jon regularly tours with his band Stay Human and, in 2012, he was listed on ARTINFO among the "30 under 30" most influential people in the art world. He earned a master's from Juilliard, and since Sept. 2015 has been the music director and bandleader for The Late Show with Stephen Colbert.
From his earliest days, his parents told him to "Go play" and especially, "Go play outside."  So, when he was six, they threw him out on the stage and said, "Go.  Play"; so he started playing with the "Batiste Brothers Band." From those early instructions, he has adopted "play outside" as his trademark and made a name for himself playing on the NYC subway. After being mentored at Julliard by Wynton Marsalis, he rose quickly in the music world, leading to a 2013 Carnegie Hall gig, which he began by playing from a seat in the audience.
His band, "Stay Human," which appears nightly on Late Night With Stephen Colbert, draws its name from the belief that the human interaction of a live musical performance can uplift humanity in the midst of the "plug in/tune out" nature of modern-day society. Maybe live music can lift us above the  …  well, you know. Either on tour or during time off, the band can be seen spontaneously playing in nontraditional venues and starting impromptu demonstrations in the streets — events that Batiste and the band have termed "Love Riots."  He makes a lot of people smile, including Stephen Colbert (and me).  Give this TV partnership a try – week nights on CBS — it will make you smile as well.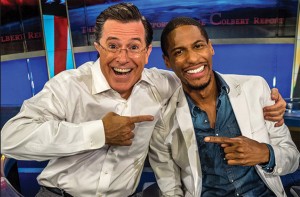 Well, OK.  Enough about the bandleader.
What about the host?
Can Stephen Colbert make us smile?
Try it out  . . .
https://www.good.is/articles/bernie-sandwiches
Now, tell me that didn't make you smile, just a little, eh? – especially the sandwich part.  These guys are fun and we need some of that. AND you don't have to put your head in the sand just to laugh with these guys. If you listen carefully to the jokes, Stephen is telling us a story that we need to hear.  If you haven't seen the show, give it a try.  If you don't like it, I'll give you a full refund.
              Download a PDF of this post:  Staying_Human_ConVivio  

2 Responses "Staying Human: People Who Make Us Smile"