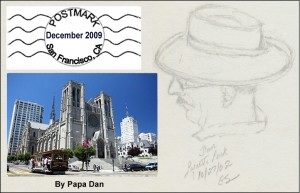 San Francisco, CA — This time of year, as the temperature drops and the earth gets ready to rest for a season, we find ourselves preparing feverishly to celebrate the holidays. For some, holiday celebrations are comforting in their permanence — many among us maintain family traditions, often religious, that remain unchanged for generations.
For others, each new emerging generation brings its own sense of celebration to the season — the tastes and smells, sounds and images, rituals and stories. And so, for many of us, our experience of the winter holidays changes over time.
For us, Papa Dan and Grandma Gretta, an enduring tradition is a day focused on the inspiring music of Grace Cathedral, at the top of San Francisco's Nob Hill. There is much that has drawn me to Grace cathedral. First and central is the music of the annual Christmas Concert of their Men's and Boys' Chorus (all volunteers), orchestra, and pipe organ. Under the current direction of Benjamin Bachmann, the music is a fabulous celebration of Christmas —surrounding their signature piece, Sleeps Judea Fair, with tunes that span the space from the Flemish traditional Cradle Song, to the 16th-century Latin Gaudete, 18th-century Mendelssohn (Hark, the Herald Angels Sing), 19th-century French traditional (Masters in This Hall), to mid-20th century compositions and arrangements by the famous John Rutter (like The Holly and the Ivy) — most of which you would recognize when you heard them. At the mid-point of the evening, while the young and old voices take a rest, a string quartet performs something familiar, usually a classical holiday piece from Mozart, Handel, or the like. This night, however, we were treated to a version of What Child Is This? that got me to thinking about what really draws me to this music and this cathedral at this time of year. More than just the birth of a particular baby 2000 years ago; more than the attraction of a modern cathedral built as an integration of "Gothic" architecture and the humanistic tidal wave of the Italian Renaissance 500 years ago; plunked down 100 years ago in the middle of a very secular, very humanist West Coast city. This holiday at this cathedral is much more.
The cathedral community itself is devoted to a remarkable motto: "We believe in one God, known to us in Jesus Christ, also known by different names in different traditions. We seek to challenge and transform the world, beginning with ourselves, and to celebrate the image of God in every person. We are a house of prayer, worship, and service for everyone, welcoming all who seek an inclusive community of love."
What does this say to me? It says that the Grace cathedral community believes in a God that is known to them in a certain way, embodied in a particular person with a long tradition, AND at the same time recognizes that others believe in a God that may have different names, different traditions, and is great enough to be included in a much wider community. This particular community calls itself "a house of prayer for all people." While it is the cathedral church of a particular diocese of a particular Protestant denomination in California, it takes responsibility for being a destination for tourists and pilgrims, a focal point for the community during times of celebration and mourning, a parish church to a vibrant, inclusive resident congregation, and "home" to hundreds — hundreds — of homeless people who sleep in its basement every night— every night — of the year. It is a place that has hosted preachers from Bishop Pike to The Reverend Dr. Martin Luther King Jr. It is a living repository of great art, from the "Art in Glass" of its famous storytelling windows; to Ansel Adams' unique Grace Cathedral series of photographs, to the "Bible in Bronze" of its front door —the world's second copy of the famous Gates of Paradise (so named by Michelangelo), the 15th century masterpiece by Lorenzo Ghiberti that began the Florentine Renaissance at the cathedral of Santa Maria del Fiore, 'Il Duomo,' in Florence. Ghiberti's doors are significant in that they depict scenes that are shared by the three world faiths of the west; Judaism, Christianity, and Islam.
But I digress . . . What does all of this have to do with an unusual rendition of What Child Is This? that I was talking about a few paragraphs ago? Let's review it and give it another listen. After an energetic, but fairly traditional, first run-through of the very familiar "Greensleeves" tune, a second rendition of the melody seemed to ask a very different question. The original song that we all grew up hearing asks in amazement what kind of child can attract such attention from three wise men from the east, shepherds and their flocks, stars pointing the way, and angels singing. The answer it has always offered is that "the babe, the son of Mary" "is Christ the King." The second time through, however, these four talented musicians, playing three violins and a cello, used the Jeremy Cohen arrangement, which dropped down into a minor key, leaving behind the certainty of the original piece and giving the cathedral audience a more questioning, inquiring, wondering impression.
So, after twenty centuries, do we here and now understand "what child" can come to the rescue of a weary and troubled world? Does the song, rendered in this way, ask us only to look back in awe at a child born so long ago to in troubled time and troubled homeland? Is it possible that the child — the children — that are our salvation and our hope in these troubled times are those children born to our young parents right here and right now in our own cities across the world?
I recall when Father Jim Keeley, years ago, preached in church that we should focus on "the reason for the season," which in our own religious tradition was so obvious to us back then. I can't help but think that, for me, Papa Dan, just another average grandfather to five little 'hopes for the future,' perhaps 'the reason for the season' can take on a broader, more familiar, more hopeful face.
My wish for all of you, so generous with your time to read this little page, whether for you it is Christmas, Hanukkah, Al-Hijira, Kwanzaa, Winter Solstice, or Festivus (for the Rest of Us), is that your own 'reason(s) for the season' will be happy, healthy, and safe as you summon traditions — old and new — to prepare the way for the coming of the future that will be in their hands.
∞ ∞ ∞ ∞ ∞ ∞ ∞ ∞ ∞ ∞ ∞∞ ∞ ∞ ∞ ∞
For more information about the history and art of Grace cathedral as it begins its 100th year, take a look at:
http://www.gracecathedral.org/content/arts/ghiberti/

2 Responses "Grace — What Child Is This?"