Four Poems From ConVivio's First Guest Poet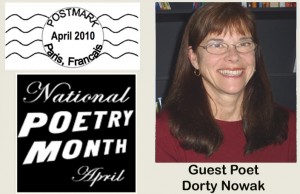 Dorty Nowak is a writer and artist living in Paris and Berkeley who writes frequently about the challenges and delights of multi-cultural living. A former educator and insurance executive, she helped found the Oakland School for the Arts. She is currently developing a collaborative project, "Where Do I Belong," involving artists and poets from Europe, Australia, and the U.S.
In response to our recent 'National Poetry Month' post, Dorty offers a couple of her favorites by Richard Wilbur and Wallace Stevens; and, she says, "because I'll never pass up a chance for extra credit" she gives us two of her own creations. To introduce her own poems, "Windsurfer" and "Haiku" (below), she writes: "Recently I have been experimenting with various poetic forms. I particularly like haiku because the form demands a deceptive simplicity. I wrote "Windsurfers" while sitting on a beach in Mexico last year watching my friends windsurf.  I was captivated by their skill and beauty." — Dorty.
Since 'National Poetry Month' is  . . . well . . . a month long, she hopes others will take this opportunity to contribute some of their favorites.
Some of Dorty's recent contributions to the world of ideas can also be found at the "Your Life Is A Trip" blog at: http://www.yourlifeisatrip.com/home/author/dortynowak
◊◊◊◊◊◊◊◊◊◊◊◊◊◊◊◊◊◊◊◊
Love Calls Us to the Things of This World
by Richard Wilbur
The eyes open to a cry of pulleys,
And spirited from sleep, the astounded soul
Hangs for a moment bodiless and simple
As false dawn.
Outside the open window
The morning air is all awash with angels.
Some are in bed-sheets, some are in blouses,
Some are in smocks: but truly there they are.
Now they are rising together in calm swells
Of halcyon feeling, filling whatever they wear
With the deep joy of their impersonal breathing;
Now they are flying in place, conveying
The terrible speed of their omnipresence, moving
And staying like white water; and now of a sudden
They swoon down into so rapt a quiet
That nobody seems to be there.
The soul shrinks
From all that is about to remember,
From the punctual rape of every blessed day,
And cries,
"Oh, let there be nothing on earth but laundry,
Nothing but rosy hands in the rising steam
And clear dances done in the sight of heaven."
Yet, as the sun acknowledges
With a warm look the world's hunks and colors,
The soul descends once more in bitter love
To accept the waking body, saying now
In a changed voice as the man yawns and rises,
"Bring them down from their ruddy gallows;
Let there be clean linen for the backs of thieves;
Let lovers go fresh and sweet to be undone,
And the heaviest nuns walk in a pure floating
Of dark habits,
keeping their difficult balance."
The Snow Man
by Wallace Stevens
One must have a mind of winter
To regard the frost and the boughs
Of the pine-trees crusted with snow;
And have been cold a long time
To behold the junipers shagged with ice,
The spruces rough in the distant glitter
Of the January sun; and not to think
Of any misery in the sound of the wind, 
In the sound of a few leaves,
Which is the sound of the land
Full of the same wind
That is blowing in the same bare place
For the listener, who listens in the snow,
And, nothing himself, beholds
Nothing that is not there and the nothing that is.
Windsurfers
by Dorty Nowak
Oil slicked bodies stretch and strain,
Hold their wings against the pull of wind.
Born from the chrysalis of board and sail,
A host of dragonflies.
Sails skim the surface of the sea,
Their colors flashing in the sun.
They swoop and flit to quilt the waves.
They seem, if only for a moment, to fly.
What grace to break the human bond,
To bend such power to their ways,
Calling on gods of wind and wave,
To transform them as they play.
Haiku
by Dorty Nowak
Irrefutable
your logic sticks like a bone
in just the wrong place
◊◊◊◊◊◊◊◊◊◊◊◊◊◊◊◊◊◊◊◊
Thank you, Dorty. 

As always, your comments are always welcome and we would still like to see more of your favorite poems in this space. There are still three full weeks left in National Poetry Month!
2 Responses "April Is Still National Poetry Month — Part Two"